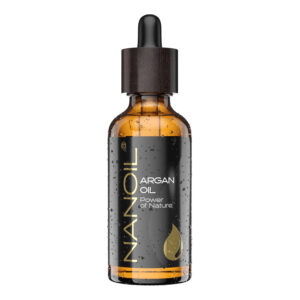 What hair type is it designed for?
dry and damaged
thinning hair
What makes it stand out?
cold-pressed, not refined
100% oil featuring Ecocert mark
natural formula, fancy design
for hair as well as body and face care
Nanoil Argan Oil is a product which solves the everlasting dilemma of hair care loving girls, namely: which hair oil treatment to choose. How so? It's the most universal (works for almost every hair type) and all-purpose as you can use it on skin too.
And the most important thing: Nanoil Argan Oil is 100% natural product, cold pressed, unrefined, certified organic. That is the very reason for its popularity!
Nanoil Argan Oil – first impression
What thoughts cross your mind when you see it for the first time? It's a premium, luxurious and… pricey product. You couldn't be more wrong! This one comes in a fancy black glass yet the price isn't that big. Moreover, the unusual design comes along with original gold Moroccan argan oil having subtle nut scent.
Get to know it better – argan oil effect
Argan oil by Nanoil is hands down worth using on hair and skin as it strengthens natural hydro-lipid barrier. As a result, the oil effectively ensures moisture and prevents dryness, as well as protects against all kinds of harmful agents: the sun, heat, free radicals, toxins, etc. Applied after washing, it acts as protective agent and eases hairstyling yet it's not the only benefit of argan. Use Nanoil Argan Oil for intense hair and scalp oil treatment e.g. leaving it in for the whole night. It tops many hair repair masks. Moisturizes, nourishes, enhances regeneration and growth.
Use Nanoil Argan Oil as a body, face and nail care oil. It brilliantly fulfils the role of repairing, moisture-boosting and strengthening treatment. Smoothes out, gives velvet-like softness and elasticity.
What Nanoil Argan Oil contains?
Minimalists will love the product for its ingredients. Cold-pressed and unrefined, that is the highest quality 100% argan oil is the one and only ingredient. The lack of parabens and other preservatives, formula free of silicones, aromas and artificial colourants – that is what makes Nanoil Argan Oil so versatile and suitable for all types of hair and skin.
RECOMMENDED FOR: the finest quality, natural and organic ingredients, multi-tasking and suitable for all hair and skin types, very light and maximally-efficient formula