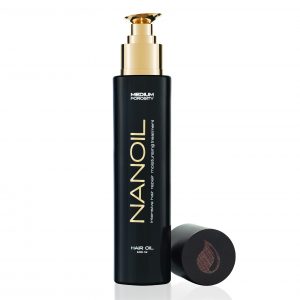 For what hair type?
low porosity, medium porosity or high porosity hair
What makes it stand out?
as the only cosmetic matches one of three hair porosity types,
contains carefully selected natural oils,
inhibits hair loss and speeds up hair growth.
Nanoil hair oil is available in three versions for various porosity types. This way every woman (though men also can use it) can choose hair oil perfect for her hair. Our hair is different when it comes to the structure, which depending on the condition is more or less tight. You can have one of three porosity types, where the high porosity means weak and rough hair structure. By determining hair porosity you can choose the best oil based treatment for your hair.
Nanoil hair oil is a hot favourite of women all over the world.
Nanoil hair oil – the first impression
There is little products that besides the appearance are also well made. Every Nanoil hair oil is an elegant cosmetic that is used with a great pleasure. The bottle is made with solid dark glass and was kept in a minimalistic look. There is also some reference to nature – the wooden cap with a carved drop on top, and something luxurious – wide, golden pump. The bottle holds 100 ml and practical marker to show you the amount of oil left inside. Perhaps Nanoil hair oil is not an option for the hand luggage, but that is not big of an issue when you get high quality. Inside the bottle is semi-liquid, light oil with gentle and mild scent.
Get to know it better – the action
First use already proves the Nanoil hair oil action. It absorbs perfectly and the feather-light formula is an immense quality. No great amount of oil is necessary for the application, there is no weighing down or greasy roots, while it penetrates deep hair and scalp layers. The formula is efficient and leaves hair silky soft after first use. Nanoil hair oil treatment is recommended to be conducted on regular basis to provide hair with hydration and nutrients. You should best do it along every hair wash by adjusting the method to yourself: on damp hair for intense action, on dry hair to facilitate styling or during the day to smooth hair and provide it with luminous gloss. The application manner for Nanoil hair oil is unbeatable.
Nanoil for low porosity hair focuses on regulating functions in the scalp, restores proper pH and prevents greasy roots. It speeds up drying time and prevents water loss to emphasise natural hair texture.
Nanoil for medium porosity hair has strengthening action, provides hair with versatile nourishment, repairs damages and seals hair cuticles. The oil prevents further damage to hair, smoother, eliminates frizzy hair and emphasises coil. On top of it, all prevents split ends and excess hair loss.
Nanoil for high porosity hair is an intense regeneration for hair, strengthens protective water-lipid barrier, complements deficits to the structure. It seals hair cuticles, so hair becomes soft, smooth and properly hydrated. It prevents hair loss, split ends, protects hair against the sun and heat while beautifying it.
After 3-4 weeks your hair appearance will change beyond the expectations. Depending on the version you choose, Nanoil hair oil can target various hair problems, that are typical for hair with different porosity types. Every time the result is same – healthy-looking, luminous and strong hair that grows faster, fall out less and is protected against unfavourable factors.
All properties of Nanoil hair oils are a result of carefully selected components. There are natural oils with saturated and unsaturated fatty acids (including omega) of the composition. To create the three hair oils was used natural oils with precious properties:
– sweet almond oil, argan oil, pine oil, coconut oil, evening primrose oil, avocado oil, passion fruit oil, macadamia oil, babassu oil, shea butter, castor oil, marula oil, jojoba oil, cottonseed oil and monoi oil.
However, that is not all when it comes to the Nanoil hair oil composition. Six or nine (depends on the version) oils in the composition are already the formula great enough. Moreover, the product is free from paraben and silicone. It contains additional enhancing components like vitamin E, UV filter, baicapil, vitamins or panthenol. That means Nanoil hair oil, no matter the version is entirely natural proposition with versatile action.
RECOMMENDED FOR: a complex of the best hair oils in the composition, matching hair porosity, innovative ingredients for hair growth stimulation and with anti-hair loss action, light formula, pleasing scent, unique and elegant design, versatile action, no limitations as to the application method.